This article was originally published on TechCrunch here, and written by Ingrid Lunden.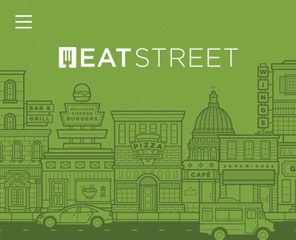 While Amazon expands Prime Now restaurant ordering and delivery to more places, a startup has picked up funding to go head to head with it and the many others in the crowded food-on-demand category. EatStreet, a platform for restaurants mainly located in smaller cities to take orders online or by mobile, has picked up $15 million in a Series C investment.
The investment was co-led by local VC 4490 Ventures and Lumia Capital, backer of another startup in the on-demand food category, the health-conscious Sprig. Others in the round included GCI Capital, MATH Venture Partners, and the State of Wisconsin Investment Board.
EatStreet has made some impressive headway since first starting out in 2010 and running essentially bootstrapped for two years while its three founders — Matt Howard (CEO), Eric Martell (CIO), and Alex Wyler (CTO) — finished college.
It currently works with 15,000 restaurants across 250 cities serving "millions" of customers. As a point of comparison, publicly-traded GrubHub, the biggest in the U.S. post its merger with Seamless, currently works with around 35,000 restaurants. Howard tells me that his company has seen triple-digit revenue growth in the last several years (but doesn't disclose what those revenues are, or any other metrics).
Today we have a veritable smorgasbord of startups and others offering on-demand food ordering and delivery services, enough to make you feel full just looking at them all.
In the U.S. they include GrubHub, Yelp, Groupon's OrderUp, Square's Caviar, Munchery; those like Postmates or Uber, which focus on delivery. And most recently Amazon — which today expanded its Prime Now restaurant delivery to Baltimore, its third city and the first on the East Coast (perhaps intentionally: Baltimore happens to be the home base of Groupon's OrderUp).
Outside the U.S., Rocket Internet has built up a massively capitalised network of businesses, and there are also Just Eat, Delivery Hero, Deliveroo and many more.
EatStreet's unique selling point is that while many of its would-be competitors are focused on both delivery and capturing restaurants more dense and larger cities, it has built its business out specifically in smaller towns, starting in its very own tier-two home market of Madison, Wisconsin.
On top of this, it focuses only on ordering, not delivery, leaving this instead to restaurants themselves or local delivery providers.
Part of that has to do with the fact that the markets that EatStreet serves tend to be very spread out. "The density in the cities where we operate is not the same as in tier-one markets, where you can batch orders together," Howard says, "so it's harder to promote delivery. We're not a logistics company. We know our strong suit is to drive orders to our restaurants."
That 'strong suit' is based around a platform that it presents to restaurants, who use it free of charge — including a tablet to receive orders. EatStreet makes revenues by charging a 12% fee on all orders and by selling ads: those who use EatStreet's mobile apps can search for particular types of food and a paid ad will put a restaurant higher in the search results. Howard says that EatStreet takes in all the revenues processed through its apps and pays out the restaurants' 88% share at the end of each week.
The fact that EatStreet is essentially a software play and not a large logistics operation could be another reason why the company has managed to grow so big on a relatively small amount of funding. While delivery-based and transportation startups have raised hundreds of millions of dollars over the last couple of years, including this round, EatStreet has raised only around $30 million. "We didn't need to raise $100 million," Howard noted.
As some have started to draw attention to some of the risk and cost around building food delivery startups, EatStreet's product focus and specifically staying away from delivery was also what attracted the investment, according to Lumia partner Martin Gedalin.
"Not being about logistics makes EatStreet a more pure marketplace and allows them and their margin profile to look considerably different," he said. "We like that focus. It's still to be proven how some of those other models will work out."
EatStreet is not disclosing its valuation.